Posted on
By Carl Lemelin
Posted in 2019, Baseball Town, Bats, Batting Cages, Coup Sûr, Demarini, Miken, Slow-Pitch, Softball, Swing, Tournaments, Worth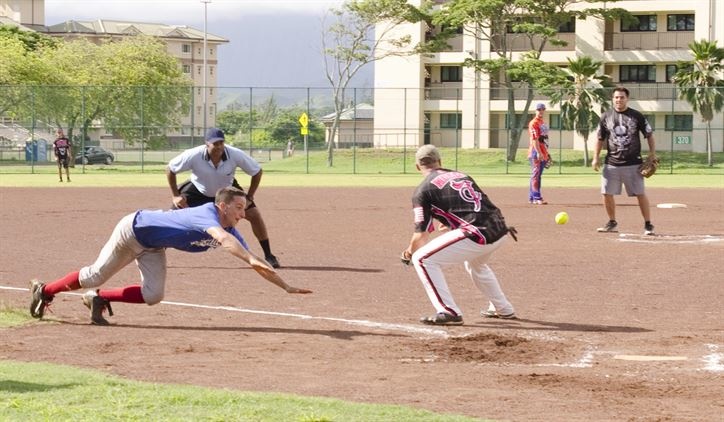 How the sport of softball and its unique culture can attract so many enthusiasts ?
We are Baseball Town. The name tells you we are baseball specialists, but there is another
sport to which we are very proud to offer our expertise. A sport derived from baseball.

All during our youth, we play baseball, we are fans of baseball, follow our MLB heroes'
exploits. But it seems that most players make the transition from baseball to softball come
adulthood.

That's not my case. At 48, I've stuck to baseball my whole life and don't envision switching
to softball anytime soon, so you can understand my curiosity. What attracts so many
impassioned players to softball? And believe me, they are true enthusiasts!

To get answers, I sat down with our resident softball expert and aficionado, Steven
Beauregard.

Steven is one of those rare exceptions, since he never played baseball. Since the age of 13,
he has always soaked in the unique universe that is softball, a major sport in his hometown
of Saint-Hyacinthe.

There are multiple types of softball: Fastpitch, Slow-pitch and Orthodox (AKA Softball in the
province of Quebec). The former two are the most prevalent in La Belle Province.

Steven has always played Slow-pitch. He loves the fast and constant action the sport
provides: "I like watching and following baseball, but I prefer playing softball. In baseball,
when you have Chris Sale on the mound, I find there aren't enough plays."

Another distinctive aspect to softball resides in its overall structure. What sport enthusiast
doesn't appreciate tournaments? And softball is all about tournaments!

There is the now famous Classique Pif in Sherbrooke in June, which survived through an
anticyclone this year, in its 44th edition. The whole of the Slow-pitch community anticipates
this grandiose event. All the continent's best teams and players are reunited in this open-
style tournament.

The best teams in Quebec can also qualify for the Canadian Championships, taking place in
Moncton, NB from August 11-17. The Men's and Women's Championships are disputed
simultaneously.

That's the other major appeal of softball: men and women are well served and can even
make it a family activity. There are mixed leagues and tournaments.

The fact that there are less pitches thrown and more balls in play also allows for games that
are played within little more than an hour, as opposed to Senior baseball games that
average about two and half hours. The kids have plenty of time to get bored!

EQUIPMENT

Since my hiring at Baseball Town, I've learned a lot about the unique world of softball. My
first lesson: softball players develop an intimate rapport with their equipment, more
specifically with their bats.
It isn't uncommon to see the most dedicated players show up to a game with 5 or 6
different bats in their bag. Demarini has produced a bag that targets this market of the
most ardent players (see https://www.baseballtown.ca/us/demarini-special-ops-wheeled-
bag.html).

"Miken-Worth dominated the market for a long time, but Easton and Louisville have improved their
bats and are slowly catching up in the last 3 years", says Steven. The secret is to choose the right bat
for the type of ball played in your league or tournament. And there is a plethora of different
softballs on the market!

Almost as many as there are models of bats: Balanced, End-Load, Max-Load, Mid-Load, etc., a bat for
every type of swing out there. You must also be careful to respect accreditation rules of your league
or tournament, provided by distinct softball federations in North America (USSSA, NSA, ISA, ASA, ISF,
etc.). In fact, I asked Steven to describe the wonderful world of softball in one word. His answer:
"Complicated!".

Steven's advice to help you find the right bat: "You have to try them, find the right bat for your
swing-type. Every swing is different." Then, you come in store and take advantage of the expert
counsel of our staff.

Our Coup Sûr cages in Laval are the ideal spot to try different bats, or simply perfect your swing.
Because Steven also adds this nugget for players looking to get introduced to the sport of softball:
"Practice, be a replacement player in leagues, play and try your teammates' bats. If you like it,
eventually you can find a league. But above all, have fun!"

You can see it in his eyes and those of all softball customers who visit our stores. The fun they have
talking softball amongst each other and with us shows a passion for the sport that is contagious.

To all, have a great rest of the ball season!