The glove is the centerpiece of a ball player's gear. This piece of leather isn't simply a defensive tool anymore. It has become a way for its owner to express himself on the field, so shopping for a glove has become as exciting as making that diving catch!
But one does have to know what they're looking for. This guide should help you navigate through all types of gloves available and make the right choice.
SELECTING THE APPROPRIATE LENGTH
The first thing you must know is baseball and softball gloves are different. Softball gloves are wider at the heel (base of the palm) to accommodate the bigger ball. They also feature a deeper pocket.
A glove's length is generally measured on the inside and from the base of the heel to the tip of the longest finger, all along the palm. For kids, the length of the glove is determined by age or according to the hand size. However, from ages 13 to 15 on (depending on the child's hand size), we can start fitting adult glove. At that point, glove length is strictly determined by the player's position on the field. As a general rule and foregoing the pitcher, the further away from the plate the position, the bigger the glove should be.
Note that first basemen and catcher's gloves are mitt shaped (no separate fingers) and are more padded to absorb higher velocity pitches and relays. Catcher's mitts are measured by circumference (rather than length).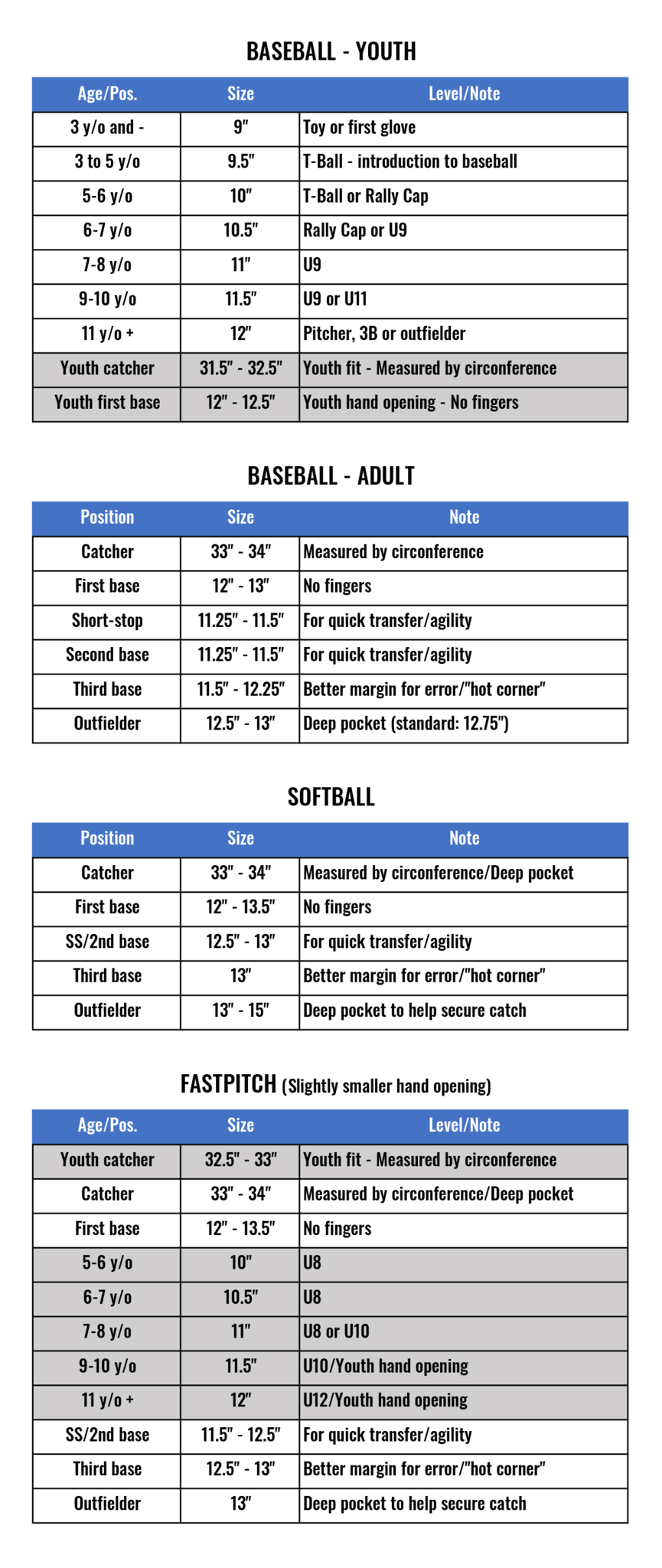 A NEW ARRAY OF FITS
It used to be gloves were offered in adult or youth hand openings. However, over the past few decades, some manufacturers realized that two fits didn't cover the entire spectrum of hand sizes and shapes. So, they have come up with a variety of different fits and concepts, which all have their own names. Here, we demystify the meaning of each one for you.
Fastpitch: When a glove is labeled as Fastpitch, of course it means that the heel is wider and the pocket deeper to accommodate the bigger ball, but it also signifies that the hand opening is tighter than standard, to fit a typical woman's or young teenager's hand size, or an adult man with smaller than average hands.
R2G: A Rawlings branded glove series that combines a thermo-formed hand opening with a 25% manufacture break-in. Made to fit most hands and be more game-ready than most high-end gloves.
Contour Fit: A Rawlings Heart of the Hide glove feature that offers a slightly tighter hand opening than a regular HOH, along with lowered finger stalls that provide a more ergonomic fit.
Pedroia Fit: An option that Wilson added to their ever-popular A2000 glove line in 2009. Dustin Pedroia has exceptionally small hands and wanted Wilson to design a glove that would provide him with a comfortable, secured fit. That design eventually inspired an entire lineup of Pro Stock models designed for players with smaller hands – appropriately called Pedroia Fit™ - including younger players and fastpitch players or those who generally want a snugger fit. The Pedroia Fit is now offered in select models across all Wilson glove lines.
Narrow Fit: This is basically the Pedroia Fit, but in other brands than Wilson. More manufacturers have followed suit with similar fits to Wilson's pioneering DP15, without actually branding them. Whenever you encounter this terminology in the product spec sheet, just know that it means a tighter than standard hand opening.
WHEN IS IT WORTH INVESTING IN A HIGH-END GLOVE?
Why is there such a wide price point disparity between gloves from the same category? Many factors affect the price of a glove, but it short it all boils down to the quality of the leather, since it will greatly influence the glove's durability. A lower end leather will lose its suppleness, dry and crack prematurely.*
*No matter the level of quality, it is recommended to treat your glove with animal based oil once or twice per season, depending on frequency of use.
The two most notorious brand names in high-end gloves, Rawlings' Heart of the Hide and Wilson's A2000, are renowned for their elite quality leather. These two giant manufacturers use only the top 5% of the best hides available in making these gloves, a
principle also applied in the production of Rawlings' Pro Preferred and Wilson's A2K Pro level gloves. Leather thickness and an extra layer of padding in the pocket is what sets these elite series gloves apart. This provide them the ultimate durability, stiffness and performance all elite level players seek.
CUSTOM GLOVES
Oh Yeah! Thanks to Rawlings and Mizuno, you can now create your very own dream glove. You can, among many other features, choose the color scheme, the size of the hand opening, the glove length, the web style, if you wish to have your name (or nickname) embroidered or even, latest added option from Rawlings, have your favorite MLB team's logo stamped on!
To start your design, click here.