Posted on
By Carl Lemelin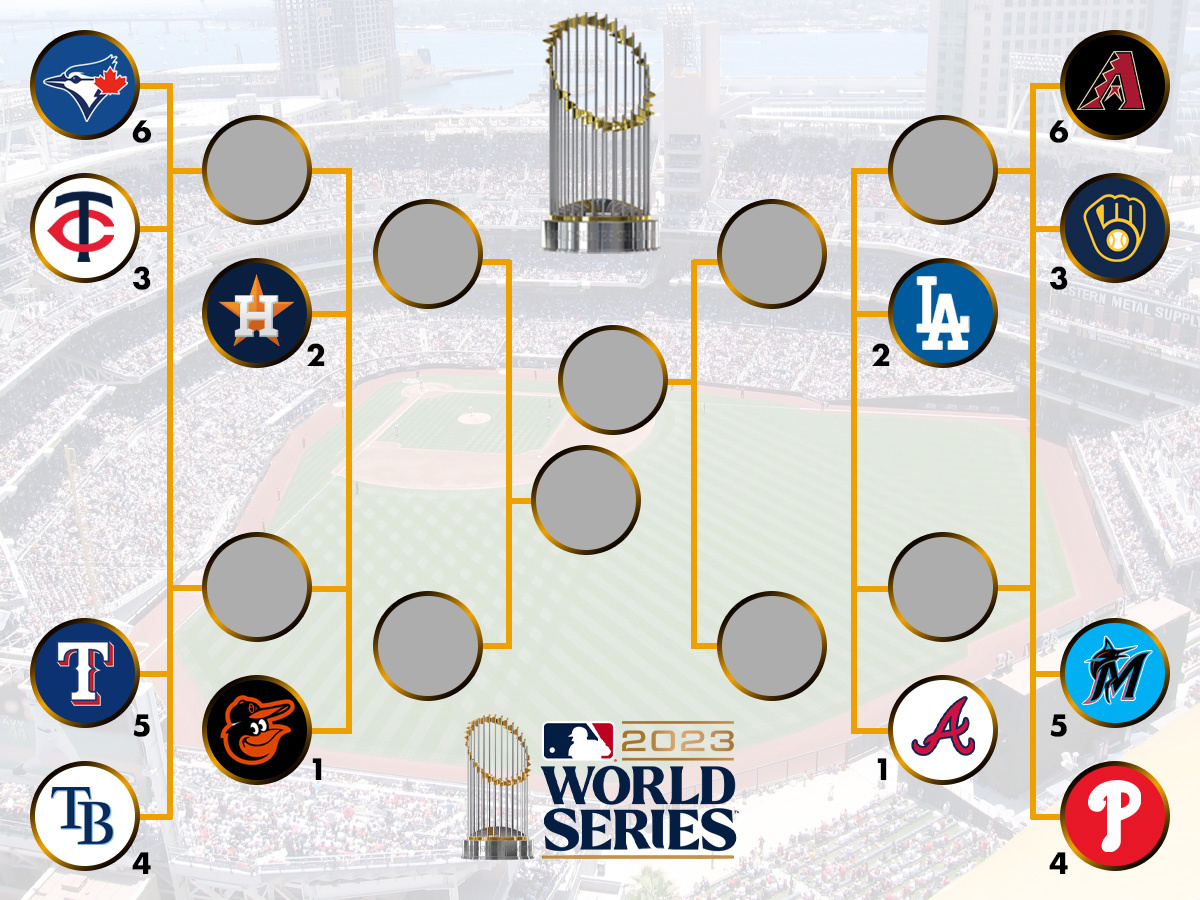 This is it, the 2023 MLB playoff bracket is complete, and all 12 participants have what it takes to give their opponents headaches. Buckle up, our statistical analysis helps you identify the true contenders among the pretenders.
In a sport as unpredictable as baseball, handicapping playoff teams is always going to be an inexact science. First, any sport is impossible to perfectly forecast; that's the whole appeal!
Secondly, even though baseball is the ultimate numbers game, for which every significant event has been counted for many decades, the playoffs consist of a very limited sample size of games compared to the 162-game marathon that is the regular season – and all we can base a playoff forecast on is our observation of regular season data.
For example, who could have foreseen the who and when of Randy Arozarena, Carlos Beltran, or David Freese putting their entire team on their shoulders and bringing them all the way to the World Series with seemingly superhuman performances – or, on the opposite end of the spectrum, the Bill Buckner ground ball through the wickets disastrous mishap that sinks a franchise's bid at a championship?
So, of course this preview, like all others before, will get the upcoming playoffs wrong, one way or another. The fun is in trying to get as close as possible to the eventual truth, and then being able to claim you're a genius!
THE METHOD
The stat-head I am, the only way I know to have any chance of achieving that goal is to dig into every contender's team numbers, compare them, analyse them, and find out what they reveal to us about each participant's odds at glory come Halloween night, or early November.
I examined MLB ranks in the four categories that I believe represent, in equal parts, all aspects of a team's game that must be evaluated to get a complete and comparative layout of the playoffs: Offense (OPS+), Starting Pitching (starters' ERA), Bullpen (relievers' WHIP), and Team Defense (defensive efficiency).
A few more key stats that translate to playoff success were also taken into consideration: record versus teams with winning records, run prevention (RA/G), and defensive runs saved, an advanced stat that isolates the number of runs players prevent on defense. I then used the average of the ranks to get a composite score and adjusted for positive or negative effect of these peripherals.
Teams were also credited (deduction from score) for a dominating performance in one of the categories, and penalized (adding to score) for a bottom third rank (21st to 30th). The lower the score, the higher I place the odds of being crowned the next World Series Champion.
The results are quite revealing and show us why a team's win-loss record is far from a trustworthy indicator of eventual playoff success. In fact, since 1969, the team with the best regular season has only gone on to win the World Series 14 times, for a weak 25.9% success rate.
*Ranks in parentheses are listed in this order: OPS+, Starter ERA, Bullpen WHIP, Defensive Efficiency (as of September 22nd)
1- TAMPA BAY RAYS (OPS+: 4 / SP ERA: 4 / B.WHIP: 1 / DEF. EFF.: 2 = SCORE: 0)
It figures that the Rays would look good in a stats-based analysis, right? No other playoff team can boast such a perfectly balanced performance during the 6-month grind. That zero score is reflective of no rank being higher than 4th, and their complete dominance in run prevention, which is a historically determining factor in enjoying long October runs. The Rays were the only team allowing under 4 runs per game (3.98), while the MLB averaged 4.63! The only fact that can blemish this resume is the season-ending injury sustained by ace Shane McClanahan, but the quick return to form of Tyler Glasnow and shrewd deadline acquisition of Aaron Civale have softened that blow. They may not have the best record, but the numbers clearly show they play the best brand of baseball.
2- TORONTO BLUE JAYS (10 / 1 / 4 / 11 = 5.5)
Although the Blue Jays' lineup is nowhere near as explosive as most pre-season projections had foreseen, the brass has brilliantly achieved the run prevention retooling goal they had set. Despite Alec Manoah's baffling struggles that saw him being demoted twice, Jays' staters boast the best ERA in the majors. The bullpen and outfield defense being other major assets, there is no doubting Canada's team has all it takes to make a run, but the inconsistent lineup will need a full return to form. Vlad Guerrero Jr has experienced too many power outages, age – and/or injuries – seems to be finally catching up to leadoff star George Springer, and Alejandro Kirk's bat-to-ball skills have vanished. When healthy, Bo Bichette has single-handedly driven that offense – still ranked 10th – but he will need more help than he's been given in the second half if the Jays are to get through the gauntlet that is the AL side of the bracket.
3- MILWAUKEE BREWERS (24 / 7 / 3 / 1 = 6.75)
Disclaimer: I don't honestly believe that the Brew Crew form the third-best roster among playoffs qualifiers. They are second to the Rays in run prevention at 4.05 RA/G, buoyed by a dominant defensive efficiency ratio (.721 – Rays and Dodgers are tied for second at .707). The pitching staff led by starters Brandon Woodruff, Corbin Burnes and relief duo extraordinaire Joel Payamps and Devin Williams also helps alleviate the pressure most MLB defenses are subjected to. The issue here is that my system may not have penalized the Brewers enough for their putrid offense. As good as they are at preventing runs, they simply don't have the pop inevitably needed to outscore the premium opposing lineups they'll be facing this fall.
4- MINNESOTA TWINS (11 / 3 / 7 / 6 = 6.75)
Here is a perfect example of a team that plays much better baseball than their record shows. Perhaps it's bad luck, perhaps bad bullpen management, and/or bad situational hitting. One thing is clear: a team ranked 4th in run prevention and 11th in OPS+ should not possess the 11th best record. Many could be surprised by the Twinkies' third ranked rotation, but Sonny Gray – finally fully healthy – is a true ace, Pablo Lopez proved to be one of the best off-season pick-ups, and despite a few hiccups, Joe Ryan has arrived as a star. Royce Lewis is now the face of a lineup that, despite the lack of big-name recognition, has held its own all season. If you're looking for a 2024 Cinderella candidate, this pesky bunch could give more notorious opponents headaches.
5- LOS ANGELES DODGERS (3 / 20 / 2 / 3 = 7)
They are still dominating the NL West, and possess the 3rd best record in the Bigs, but no recent version of the Hollywood Blues has faced more adversity. The Dodgers are currently missing four members of the rotation: Walker Buehler, Dustin May, Tony Gonsolin to injury, and Julio Urias to a suspension. They were able to overcome a below average output from a ragtag starter's bunch only thanks to elite level relief pitching, defense, and offense. The dynamic duo of Mookie Betts and Freddie Freeman is only matched by Atlanta's Ronald Acuna Jr and Matt Olson. The Dodgers still must be considered the second-ranked squad in a shallower NL pool of contenders, but an early September 3-1 series loss to the Braves at home clearly showcased the balance of power in that clash of the titans.
6- ATLANTA BRAVES (1 / 15 / 6 / 19 = 7.25)
How can the team with the best record be ranked 6th among playoff contenders you may ask? Well, this is a ranks-based system, and the Braves are only ranked 13th in run prevention. That is a weakness that could very well have them fall in that 74% club of best-regular-season-teams-not-winning-the-World-Series. But the Bravos were given credit here for their historically dominant offensive output – perhaps not quite enough credit. Even if we take away Olson's MLB-leading 53 dingers, the Braves still lead the majors in homeruns. Acuna Jr is a never-seen-before mix of speed and power and likely this season's MVP, and the bottom of the lineup is better than some teams' top of the order. With just good enough pitching and defense to support it, that kind of fire power can beat any opponent's mound prowess!
7- TEXAS RANGERS (2 / 6 / 12 / 5 = 7.25)
The Rangers' off-season focus on improving the pitching staff has finally paid dividends. The 6th rank in SP ERA is a pleasant surprise, especially without their prized winter free agent Jacob DeGrom being a contributor. That explains half of their AL West title. The other half is an anticipated return to form of their top-2 hitters in the lineup, Marcus Semien and Cory Seager. Add RBI machine Adolis Garcia to the middle of that order and you've got an Arlington Murderer's Row. The issue with the Rangers is that they have difficulty converting their good pitching and defense into actual run prevention (4.47 RA/G, ranked 16th). After a rough patch in August, the bats have come alive again, so this is a team that no one wants to face in the early rounds.
8- HOUSTON ASTROS (5 / 10 / 13 / 12 = 10)
The defending champs are in tough to repeat in a season that showed clear signs of a changing of the guard in the AL. Their ranks translate to a still well-balanced roster, but definitely not elite. The fact they had to battle for their spot into the last week of the season could help them carry on that intensity into the playoffs. The Lance McCullers Jr injury really hurts the rotation depth, and closer Ryan Pressly hasn't been as automatic as he was last year. They will need Micheal Brantley to be healthy and a significant contributor if the familiar cast of Jose Altuve, Yordan Alvarez, and Alex Bregman are to carry the 'Stros back to the promise land.
9- BALTIMORE ORIOLES (6 / 16 / 9 / 15 = 10.5)
I know, I know, another anomaly. To have the holders of the second-best record be ranked only 9th among post-season hopefuls doesn't look right. That can be explained by the fact that, contrary to the Texas Rangers, the Orioles have been very good at limiting RA despite middling ranks for pitching and defense. The score was adjusted for that, but perhaps not quite enough. Two more factors make me rank them much higher than their score: 1- The return from injury of potential ace John Means, and Kyle Bradish's breakout makes their rotation much better than the rank suggests; 2- Their recent play, holding off a pesky Rays squad in the September stretch run. They may be new to the playoff vibe, but their 50-37 record versus above-.500 opponents is all the proof you need to confirm that no team will intimidate them.
10- PHILADELPHIA PHILLIES (7 / 14 / 17 / 16 = 13.5)
I made the mistake of underestimating the defending NL champs last year. It looks like my power ranking system is doing it again! How do you account for experience? If it were that much of an advantage, wouldn't we see more repeat winners in sport? That said, the Phillies have outperformed their score, and have left room for improvement. Trea Turner has turned a corner after a horrible first half by his standards. The Phils' infamous duo of Aaron Nola and Zack Wheeler have also been underwhelming and uncharacteristically inconsistent. However, it's the bullpen that doesn't seem to be good enough for the boys from the City of Brotherly Love this time around. Can they prove me wrong again?
11- ARIZONA DIAMONDBACKS (14 / 21 / 18 / 14 = 16.75)
At a minus-22, they are one of two playoff qualifiers with a negative run differential. Those ranks also bear out the fact that the young D-Backs roster is very lucky to have punched its ticket to the fall dance. I did have them pegged as the sleeper team in my pre-season preview, and they proved me right, but after a red-hot start, the second half of the season has been played under survival mode for the Snakes. The Corbin Carroll-led lineup is young and promising, and the top-2 of the rotation is as good as any with Zac Gallen and Merrill Kelly going deep into games and holding opponents to 3 or less on most nights, but the Desert Vipers aren't ready to make post-season damage quite yet.
12- MIAMI MARLINS (21 / 9 / 21 / 21 = 21)
Braxton Garrett, Eury Perez, and Edward Cabrera. The casual baseball fan could be forgiven for not knowing any of these three names. They are the youthful complement to Jesus Luzardo and Cy Young title holder Sandy Alcantara on a rotation that is clearly on the front line of the South Beachers' efforts to outperform their -57 run differential. The "bottom 3" has combined to average 115.2 IP and a 3.68 ERA. Unfortunately, the lineup, bullpen, and defense all rank in the bottom third, which would make any kind of playoff run baseball's version of the parting of the sea in Miami.
FEARLESS FORCAST, BECAUSE WHY NOT?
"To the brave go the spoils", they always say. So, here goes nothing…
AMERICAN LEAGUE
Blue Jays defeat Twins
Rays defeat Rangers
Blue Jays defeat Astros
Rays defeat Orioles
Rays defeat Blue Jays to win AL pennant
NATIONAL LEAGUE
Brewers defeat Diamondbacks
Phillies defeat Marlins
Brewers defeat Dodgers
Braves defeat Phillies
Braves defeat Brewers to win NL pennant
WORLD SERIES
A classic World Series has Atlanta and Tampa Bay exchange blows in a dramatic mix of homerun contests and pitcher's duels, but after 7 hard fought, grueling, and well played games, the Braves historically dominant lineup is just too much for the valiant Rays' pitching staff to handle.
Braves win their second title in 3 years, and who else but Ronald Acuna Jr is named MVP! But please, when these prognostics inevitably go haywire, don't hold it against me.