Posted on
By Carl Lemelin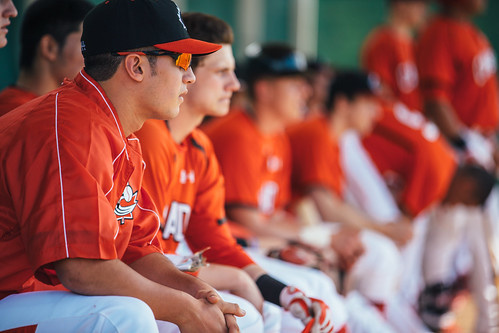 The search for the best pathway for a young, gifted ball player can be challenging. Thankfully, the offering of quality Canadian development programs has grown, but where to start?
Elite baseball in Canada has never been as healthy as it is right now. Participation in the sport has grown steadily over the past decade, with the pandemic helping accelerate the boom due to social distancing policies keeping soccer players off the pitch.
Many young soccer players tried baseball for the first time, realized how much fun could be had on a ball field, and haven't gone back to soccer. It could also be that today's parents, who grew up playing more baseball than soccer, want their kids to experience the same fulfillment that their favorite childhood pastime made them feel on beautiful summer days.
The one thing we know for sure is that a deeper player pool translates to more highly skilled athletes being developed. We see it in the unprecedented abundance of prominent Canadians in the MLB and minor pro ranks all over North America.
But what about the structure of Canadian elite baseball?
Concretely, that structure is rather scattered and difficult to navigate for parents looking to find the best option to help their child develop in a way that best suits the player's individual needs – and the family budget.
This blog won't pretend to have all the answers, but I will try to identify all the different options that are available in the current Canadian baseball development landscape.
BASEBALL CANADA
Structurally in the Great White North, everything starts with Baseball Canada, the national development organization for our favorite sport. The federation is made up of 10 provincial associations representing players, coaches, and umpires nationwide.
Baseball Canada runs national championships every year for all age groups where the best players in the country get to represent their province in a late summer showdown. The federation also runs the National Men's, Junior (18U) and Women's teams that represent the country in international events all over the world, including the Olympics.
To find elite talent, provincial associations must first create a program that attracts as many kids to the game as possible, so marketing and packaging the sport at the grassroots level within their territory is a huge part of what they do.
But what happens after elite level athletes are identified? Where can they go to compete against their peers, where they can keep thriving by facing the best competition available in their age group?
HOME IS WHERE THE HEART IS
As with everything in life, when it comes to finding individual talents that set themselves apart, the more densely populated areas have the most offerings of elite baseball programs. Canada's geography can make it difficult to find the ideal environment for a teenaged prodigy who lives far away from a metropolitan area, but development programs have popped up in more and more places in recent years.
Obviously, it costs less for parents to enlist their gifted child in a local program whenever possible. These are usually available for younger age groups (15U and 16U), since some high school sports programs are an option in most provinces.
Provincial associations also oversee localised competitive leagues (AA and AAA levels) for all age groups, which allows skilled players to compete at a higher level while representing their own city or region. These localized leagues are the most cost-effective alternative for families working on a limited budget.
However, overachieving kids in these local leagues may not find a level of competition that will challenge them to keep improving their skills. Moreover, most of these programs are limited to summer leagues and don't offer year-round training for their young athletes.
THE ADVENT OF PRIVATE CLUBS AND ACADEMIES
Baseball hasn't escaped the modern trend toward specialized training for elite talents. Since provincial associations aren't built solely to cater to the best of the best, the private sector has come to the rescue in the form of professional training academies.
These baseball schools are equipped with professional trainers, coaches, and even dietitians that teach kids how to get the best out of their abilities. Since a multitude of these academies and clubs have sprouted over the last decade or so, most big cities have a few of them that service the surrounding area.
During the summer, academies form elite level leagues for each age group they serve, which ensures high-level competition throughout the season. Some teams also travel to the U.S. for winter training and/or tours and/or tournaments where they get to play travel teams or American elite programs, which adds to the 360-degree learning experience for these prospective future pros.
Players who previously played Rep baseball (local competitive levels) are also eligible to play for a privately run team, since academy leagues all run on an open release policy, which means they aren't limited to a geographical area when a player signs up.
As you may have gathered, the only drawback of club baseball is the higher cost to parents, which could range from a few thousand to several tens of thousands of dollars per year, per player.
These wide-ranging figures are attributable to the varying arrays of services provided by individual programs (coaching staff quality – i.e., name recognition – and training facilities, equipment, accommodations (if applicable), and possibly travel expenses for tournaments or events.
SCHOLASTIC PROGRAMS
Maybe this blog should have started with this disclaimer, but the one thing parents or young players need to keep in mind when shopping for an elite baseball program is that only a very select few will ever make a career out of baseball.
That means that in the vast majority of cases, having a plan B is extremely wise. That is why programs that combine education and sport may be the prescribed choice for 90 to 99 percent of elite ball players.
Some Canadian universities (U Sports), prep schools, colleges, and even high schools offer baseball programs that provide a quality competitive environment for student athletes. While these more affordable alternatives don't afford players the same visibility as the private club route, it is the best option for families on a very limited budget that understand the importance of acquiring a degree – you know, in case the baseball thing doesn't pan out.
Plus let's face it, baseball is a game after all, and representing your institution is a lot of fun for older players looking to keep playing the game they love at a competitive level while pursuing a higher education.
THE ULTIMATE ELITE ROUTE: U.S. COLLEGES AND UNIVERSITIES
For the best of the best, the U.S. College route is unavoidable. A U.S. scholarship provides top echelon players with the best showcase opportunity, where all the MLB top scouts get to evaluate future Big League – or minor league – stars.
We won't get into the details of all the different types of colleges and universities south of the border, but the main difference between the two resides in the years it takes to get a degree: 2 for college, and 4 for university.
Obviously, NCAA Division 1 is what all American college baseball players dream about. That's where all the top MLB amateur prospects get to showcase their games. The NCAA is made up of the top universities in the U.S., which means to play there, the players GPA must be good enough to qualify, and must be kept up while playing for the school. The cream of the crop of the NCAA meets up in the heavily scouted College World Series every June, where many of the MLB draft's first round picks are showcased.
The top Division 1 players get what is called the "full ride", which means a full scholarship and all basic expenses paid by the institution. Others will only get a full or partial scholarship, no expenses paid.
For athletes with lower grades, there is the junior college (JUCO) route. These smaller schools offer 2-year graduate programs at more affordable tuitions for the 99% of student-athletes who know they won't get the full ride.
NCAA Division II, NAIA (National Association of Intercollegiate Athletics) members, and junior colleges have less restrictions on the number of scholarships they can offer, but also have much lower budgets. They do however tend to cover a higher percentage of their partial scholarships than Div I programs to attract more players.
Even if the level of baseball doesn't quite reach the heights of Div I, these leagues are still regularly scouted by MLB organizations and D1 recruiters alike, and there is a career path for the top players in those secondary college divisions.
COLLEGE PLAYERS FEEDBACK
At Baseball Town Ottawa, we are fortunate enough to have a couple of employees who have experienced U.S. college baseball. Sebastian Pochun is a member of the Dakota Wesleyan University Tigers in Mitchell, South Dakota, and Patrick Mulligan played for two different community college programs, Cloud County in Concordia, Kansas, and Allen Community College last season in Iola, Kansas.
Sebastian's Tigers play in a NAIA conference, which he says is by far the best level of baseball he's experienced.
"You remember Ben Zobrist of the Chicago Cubs? He played (in our conference) when I played for Lincoln College (Illinois)", the pitcher/outfielder tells me proudly.
Seb has played for three different U.S. schools since 2018 and says he has enjoyed the hospitality and intense competitiveness of baseball south of the border.
"The one thing most people in Canada don't realize is the size of the rosters!". Last season, Seb's Tigers signed 60 players, which means newcomers must fight for their playing time.
That also makes it more difficult for coaches to be as available to players for one-on-one instruction, which was Seb's main complaint about playing College ball. He was used to much more personalized coaching while progressing through three different club teams in Canada.
As for how he was recruited, Seb says he got his big break while playing for the Brockville Bunnies, a private club south of Ottawa.
"That's where I got my best exposure", he states, since the Bunnies were an independent travel team that played a lot of exhibitions and tournaments.
For his part, Patrick got attracted to college baseball by following the NCAA and dreaming of one day living the American collegiate athletics dream.
"SEC is what got me hooked when I was 12 or 13", he recalls.
However, reality set in later on, and Pat (A.K.A. "Mully") knew the NCAA D1 dream was not going to happen. Why?
"Full scholarships don't exist anymore (in baseball), in football yes, but because of my upbringing (…) I was limited with the places I could go", recounts the player who first travelled south in 2021.
Because most baseball scholarships only cover 25% to 70% of the tuition, and the jump in costs between a JUCO or community college and a D1 university is considerable, Mully started searching for a smaller school that would open the door to a college career, and then let his play determine the rest of the story.
Unfortunately, an injury would limit his playing time in his first season, but he was able to play 38 games as a regular starting middle infielder in 2022-23 for the Allen C.C. Red Devils.
Patrick was recruited while playing for the Ottawa Nepean Canadians organization and got a huge push from the coach to help him find the best possible school for him, one that would cover a good portion of the tuition and afford him the best conditions for development.
"I also played for Team Ontario (U17) and Team Canada (U18), which affords you a lot of attention (from recruiters)", explained Mully.
As for the overall experience, the 21-year-old mentions his appreciation for the culture of college athletics, where it's all about representing your institution. He revels in the camaraderie that creates among teammates and the student body.
And the biggest drawback? "I missed the homecooked meals!", said the young man, who experienced being away from home for the first time.
As you can gather, options for elite baseball players in Canada have multiplied over the last decade or so. The private sector has come to the rescue of the Baseball Canada structure and injected more professionalism and depth to the national talent development system.
When planning your child's pathway, you must first answer these questions:
What is the ultimate goal? Are we going for a career in baseball or simply looking for a rewarding high-level athletics experience?
If the opportunity is out of town, is the player ready to go out on his own and will his destination of choice offer the support a young adult needs to thrive?
What is the player's priority: Exposure? Playing time? Life experience? Travel opportunity? Studies?, etc.
What is the family budget?
If he chooses the U.S. College route, what are ALL the terms of the scholarship (roster size, travel costs, support staff, food, lodging, etc.)?
All of these could play a huge role in the quality of the player's adventure. Please keep in mind that a kid must enjoy his experience for him to find the motivation to persevere through the inevitable bumps in the road.
The bottom line is that no matter how far this baseball thing leads the player, you are investing in his future by providing him with a potentially life-changing experience playing a sport he has been passionate about his entire life.
Catering the experience to his individual needs should be the driving focus.