Posted on
By Carl Lemelin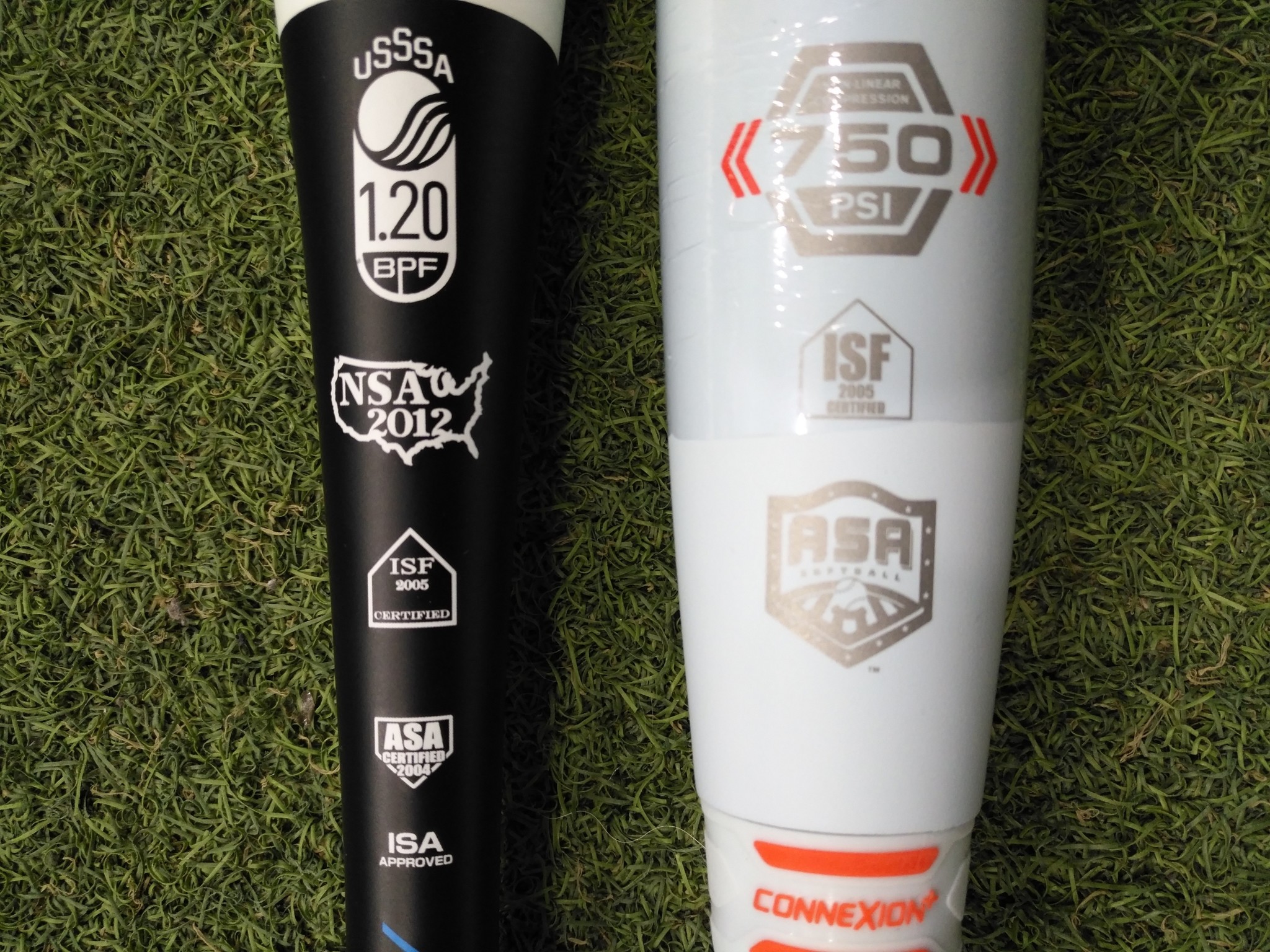 Easy to get lost in the forest of softball bat stamps.
Softball is a very simple sport at its core. For a neophyte however, it is very easy to get lost in the complexity of the regulations governing the slowpitch bat industry. Amplifying the confusion, now comes an important change in USSSA (United States Specialty Sports Association) standards.
The notorious USSSA logo that you see on every slowpitch bat will be slightly modified on all bats produced after December 31st, 2020. What do all these stamps mean and how will the new standards affect your favorite sport? Let's start by understanding the meaning of the stamps.
AH, CAPITALISM…
It must first be said that each stamp represents a softball association, most of them American. There are many of them, but the three main ones affecting your selection of a bat are: USSSA, ISF (International Softball Federation, recently replaced by WBSC, the World Baseball and Softball Confederation) and ASA (Amateur Softball Association, recently replaced by USA Softball).
The role of these associations is to determine the rules of play in tournaments and leagues they preside over. In Canada, our associations choose to abide by one of those to set tournament and league rules. Of course, individual leagues always have the option to adopt local rules as they see fit.
What must be highlighted is that each association has its own set of bat performance standards. These standards exist to limit the energy transfer from bat to ball, in short reining in the manufacturers' technological advancements.
Why limit the performance levels of bats? First and foremost, to protect the legitimacy of most current ballpark dimensions (prevent too many home runs being hit), but also to protect fastpitch and softball (orthodox style) pitchers, who aren't protected by nets and have little to no reaction time on comebackers.
For that reason, each association demands from manufacturers that their bats be submitted to performance testing in laboratories in order to be stamped with their logo. This stamp allowing the bat to be used in federated leagues and tourneys, that would render an unstamped bat useless. Of course, the association charges bat makers fees for the privilege of posting their stamp on bat models. Bat suppliers must then consider their target audience for each of their models in order to determine which stamps to apply for in each case.
USSSA standards are less restrictive than those of the ISF/WBSC and the ASA/USA Softball, which means it has a higher tolerance for higher performing bats. Most slowpitch leagues now using protective nets for their pitchers, the only stamp needed is the USSSA 1.20 BPF, also known as the 'Thumbprint'. That's why you see that stamp on all slowpitch bats being sold in stores.
The WBSC and USA Softball ask manufacturer to dim down their bats' levels of performance. That explains why they are the stamps of choice for fastpitch and orthodox softball leagues, and why all fastpitch bats are tagged ISF/WBSC and ASA/USA Softball.
In the end money talks. Because fastpitch is such a popular worldwide sport, manufacturers know full well that they must have their bats stamped in order to sell them.
This is where orthodox softball leagues (a brand of softball played mainly in the Province of Quebec) come to a crossroads. They use slowpitch bats, but their brand of game is played more like fastpitch. So, Quebec Softball federated orthodox leagues mandate WBSC and USA Softball stamped bats in order to protect pitchers and infielders, but also to preserve the legitimacy of ballpark dimensions.
Since this niche market is limited to Quebec, bat makers have very little financial incentive to have their slowpitch bats stamped ISF/WBSC and ASA/USA Softball.
Therefore, it has become more and more difficult for players to find legal bats. In fact, only 5 models remain generally available that feature both stamps and one more (the Louisville Z2000) that features only the ISF/USA Softball stamp (Softball Quebec now tolerate that only one of the 2 logos be apposed).
NEW USSSA THUMBPRINT
The good news for orthodox softball players is that they are not at all affected by the new, more restrictive USSSA standards, since those of the WBSC and USA Softball remain unchanged.
How are the bats tested? The barrel is placed in a vice equipped with a gauge that measures compression weight. The barrel is squeezed to its max and a result is given in pounds of pressure. The higher the result, the less the barrel can create the trampoline effect that transfers more energy back to the ball on contact.
The bad news is that USSSA approved bats produced January 1st, 2021 or later will have less pop. But there is also some very good news for consumers!
A recent ruling by Softball Quebec will allow players to use current USSSA Thumbprint stamped bats until the beginning of the 2023 season.
THIS CREATES AN EXCEPTIONAL PURCHASE OPPORTUNITY FOR ALL SLOWPTICH PLAYERS! As long as we still have models featuring the old logo, by buying one of these eventual relics today you secure a bat that you know packs a better punch for the next two years plus.
Hurry up because you can bet players in the know will start hoarding very soon!!!