Posted on
By Carl Lemelin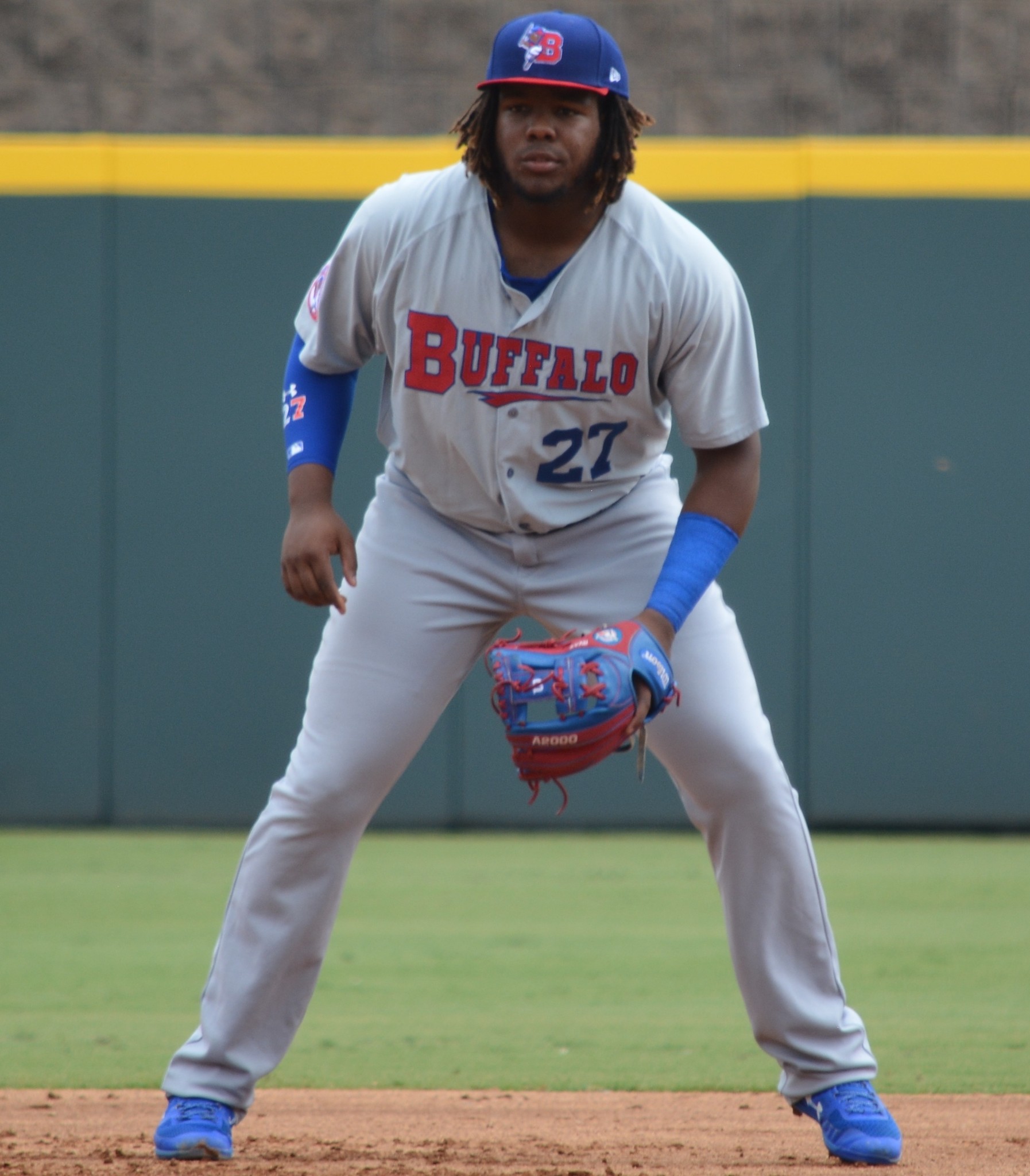 Everything you need to know about Vlad Guerrero Jr. A complete analysis of his debut last April 26.
April 26th, 2019 may go down in Blue Jays history as the most important date the franchise has seen since their last World Series conquest in 1993.  Vladimir Guerrero Jr's was the most hyped young prospect debut since Bryce Harper.  His career minor league average of .331 and .945 OPS may have something to do with that.
The fact that his Hall-of-Fame father played in the same country (home of the B45 bats and Baseball Town stores), the country from which the blue chipper hails from, certainly adds to the excitement north of the border.  But make no mistake, Vladdy Jr's mug was all over MLB.com, ESPN.com and the MLB Network as soon as the Jays announced he would be in the starting lineup for last Friday's game at Rogers Centre.
Arriving at the ballpark wearing his dad's old white Expos' jersey, every fan's anticipation for this unique event was palpable.  What did his first game in The Show have in store for us?
First at-bat:

A's pitcher Mike Fiers surprised everyone, throwing 5 straight fastballs at the prodigy.  After showing good composure on pitches off the plate, Guerrero Jr hit a solid grounder to first on a knee-high fastball on the outside corner.  0 for 1.

 
AB #2:

One of those moments everyone is on the edge of their seats for on night like this.  As if Fiers had set up the kid in the first, he attacked Vladdy with secondary pitches on 4 of 5 deliveries.  Then, on a knee-high, inside corner splitter, the star of the show made everyone (including the author of this blog, in his living room!) stand up off their seats and follow a ball hit deep in the left field corner.  Chad Pinder made a tremendous leaping catch at the wall, generating a collective "Ooooooh" of disappointment in the stands and in many homes. Three feet from a dinger, 0 for 2.

 
AB #3:

Vladdy hits the second pitch, a letter-high, outside corner fastball, off the end of the bat to the right field warning track.  0 for 3.

 
AB #4:

Isn't this game funny? On his least hard-hit ball all night, Guerrero Jr gets his first Big League hit.  After seeing a low, outside curve from reliever Yusmeiro Petit barely miss, he adjusted admirably on a knee-high, outside corner fastball he clearly wasn't looking for and hit a double down the first base line.  His game ended when he was subsequently lifted for a pinch-runner, but the hit kick-started a 2-run ninth inning.  1 for 4, Jays win on a Brandon Drury walk-off bomb!

 
So, what did we learn from this first game?
Well, we saw a lot of what the scouting reports tell us about the kid:
Uncommon bat speed: warning track fly balls on two balls hit off the very end of the bat;

Elite bat control: went with the pitch all night, never caught guessing, zero swing-and-miss;

Plate discipline: 17 pitches seen in 4 AB.
We also saw something the scouts don't forecast.  Two solid defensive plays at third base: a charging play and an accurate off-balance throw on a chopper and a smooth backhand play, followed by a bullet to Justin Smoak's chest.  Uncanny poise for a 20-year-old on this kind of stage!
Although there are concerns surrounding his body type and future health and durability, nothing I saw Friday leads me to believe Vladimir Jr won't become the superstar he is projected to be.
Even if the talent level is comparable, he is nothing like his famous father.  First, you wouldn't have seen Vlad Sr wearing batting gloves (no contract with Franklin here!).  More significant, however, Jr will be a much more disciplined hitter and should be a more consistent average and on-base producer than Daddy. 
He may not have his father's famed plate coverage (no one ever has!), but he won't chase as many pitcher's pitches.  A perennial .300 hitter, .850 OPS, 30-40 homers and 100+ runs and RBI's per season is within reach… Barring serious injury, of course.
Now, let's watch and appreciate!