Posted on
By Carl Lemelin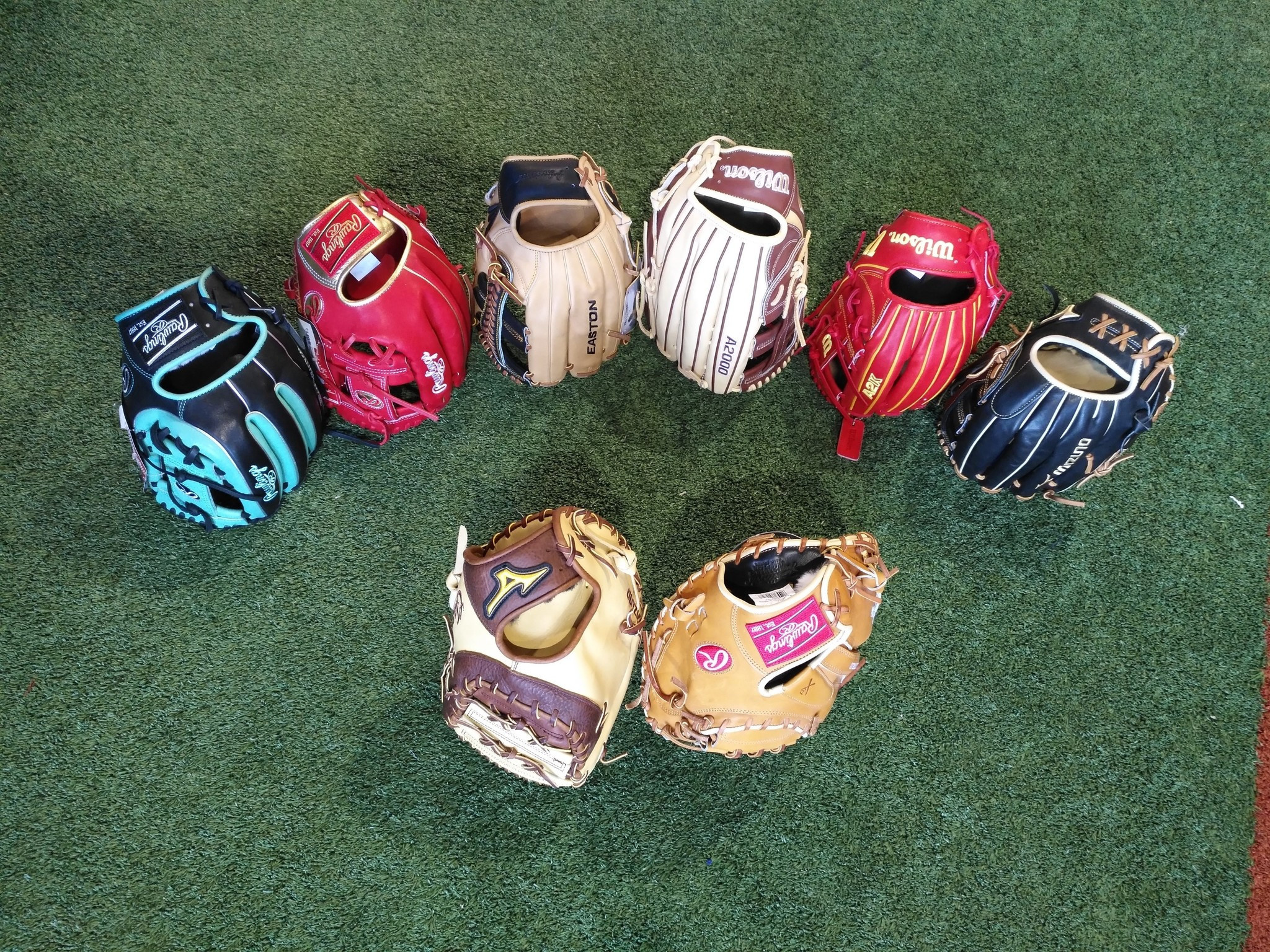 What ballplayer doesn't love shopping for a new glove?
For hockey players, it's the skates. For golfers, the driver. Tennis players love their racket. But for ball players, nothing is more precious than their glove. So much so, they make hard-cover protective compartments as part of baseball bags to keep the glove from being squashed by the rest of the gear.
At Baseball Town, we see it all the time on customers' faces when they enter our stores. First, they look around and are visibly impressed by the expansiveness and impressive inventory. But when eye contact is made with the glove wall, faces suddenly light up like kids' on Christmas morning around the tree.
"Look at that wall… Wow! I've never seen so many gloves at one place!"
Maybe it's the fact we keep them for so long. Maybe it's because they remind us of the first time we ever played catch and fell in love with this great game. Maybe it's all these different styles and color schemes now available. Or maybe it's just the way they smell. Ball gloves just have that magical hold on us.
That's why shopping for a new glove is such a special experience. We get that tingling feeling in the pit of our stomach and we can't wait to seek out our options.
But wait just a minute! You can't just go to Baseball Town and pick out the coolest glove on the wall. There are a few basic things you should know, whether you're shopping for yourself or your child.
SIZING A GLOVE
Gloves are measured by length in inches. The measurement is generally taken on the inside and from the base of the heel (base of the palm) to the tip of the longest finger, all along the palm.
There is a distinction to be made between baseball and softball gloves. Softball gloves are wider at the heel (base of the palm) to accommodate the bigger ball. They also, consequently, feature a deeper pocket.
As for fitting a glove, the myth that must be dispelled is that the size of the glove depends on the size of the hand. That's only true until around age 13 to 15, depending on the young player's hand size. Once the hand outgrows the youth sized hand opening (which sets youth gloves apart from adult gloves), glove size is determined strictly by the player's position on the field.
It should be noted that most manufacturers now make adult gloves featuring a lightly smaller hand opening for softball (Fastpitch fit), and some also do it for baseball (e.g. Wilson's Pedroia Fit). Another exception relates to the catcher and first base positions. Their gloves are mitt shaped (no separate fingers) and are more padded to accommodate higher velocity pitches and relays.
As for all other positions on the diamond, second basemen and short-stops will usually use the smallest gloves with shallower pockets to facilitate those athletic quick hands plays, with an easier access to the ball on the transfer. Third basemen and pitchers will want an intermediate sized glove since they are closer to the plate and need more margin for error with less reaction time on hard hit balls, but still need the agility to make infield plays. Outfielders prefer longer gloves with deeper pockets to help them reach those gapers and secure difficult diving catches.
For a more detailed glove sizing guide, click here.
WHAT'S YOUR WEB?
They call them web gems for a reason. The web is an important part of the glove. Even if the aim should always be to catch the ball in the pocket (directly under the web), the web helps secure the more difficult catches that can't be centered.
There is a slew of different web styles for different tastes, and while many ball players tend to choose their web type on looks alone, most fail to realize that there are positional preferences/needs attached to each one.
For instance, pitchers will almost always look for closed or partially closed webs to hide their grip on the ball from hitters (to keep them from guessing pitch selection). They can select either a closed one-piece web, basket web (woven) or a modified trapeze, which is a partially closed web.
Middle infielders will mostly opt for stiffer webs that will facilitate a quick transfer to the throwing hand, like an I-web or V-web, which feature one thick piece of leather that helps funnel the ball to the pocket when fielding ground balls. Third basemen might choose to go with the modified trapeze, featuring more lacing, which translates to a more flexible web, allowing for that extra margin for error needed at the hot corner.
Outfielders generally prefer softer, trapper-type webs like the H-web or trapeze (also called 6-finger web). Same for first basemen, who have a choice between a single-post or H-web.
Catcher baseball mitts are either equipped with full or 2-piece closed webs in order to absorb high velocity fastballs. Note that softball catcher mitts can also sport reinforced H-webs since they have a deeper pocket.
A CROWN JEWEL TO PRODUCE WEB GEMS
Over the past 15 years or so, there has been a huge shift in how young elite level players view their glove. There are now so many options among high end gloves, flashing the leather on the field has literally become a form of artistic expression.
Some like it to match team colors, others will have it promote a cause, pay tribute to a real life hero or simply have it match their own personality. But one thing is clear: the old saying "You gotta look good to be good" now also extends to a player's glove.
Industry leaders Rawlings and Wilson seem to have found the sweet-spot in terms of style and price point with their respective Heart of the Hide and A2000, which are easily the two best-selling high end models. They are offered in a multitude of color schemes and in special editions like the "Glove of the Month" program in which Pro Shop qualified retailers (like Baseball Town!) are sent monthly exclusive thematic models.
Then, there's the ultimate in high end glove design: your very own!
CUSTOM GLOVES
Oh Yeah! Thanks to Rawlings and Mizuno, you can now create your very own dream glove. You can, among many other features, choose the color scheme, the size of the hand opening, the glove length, the web style, if you wish to have your name (or nickname) embroidered or even, latest added option from Rawlings, have your favorite MLB team's logo stamped on!
Oh, and hurry, if you order your custom glove before October 31st, you'll get it by Christmas!
To start your design, click here.