Posted on
By Carl Lemelin
Posted in 2019, Atlanta Braves, Easton, Houston Astros, Los Angeles Dodgers, Louisville Slugger, Milwaukee Brewers, Minnesota Twins, mlb, New York Yankees, Oakland A's, Postseason, Rawlings, St-Louis Cardinals, Tampa Bay Rays, Washington Nationals, World Series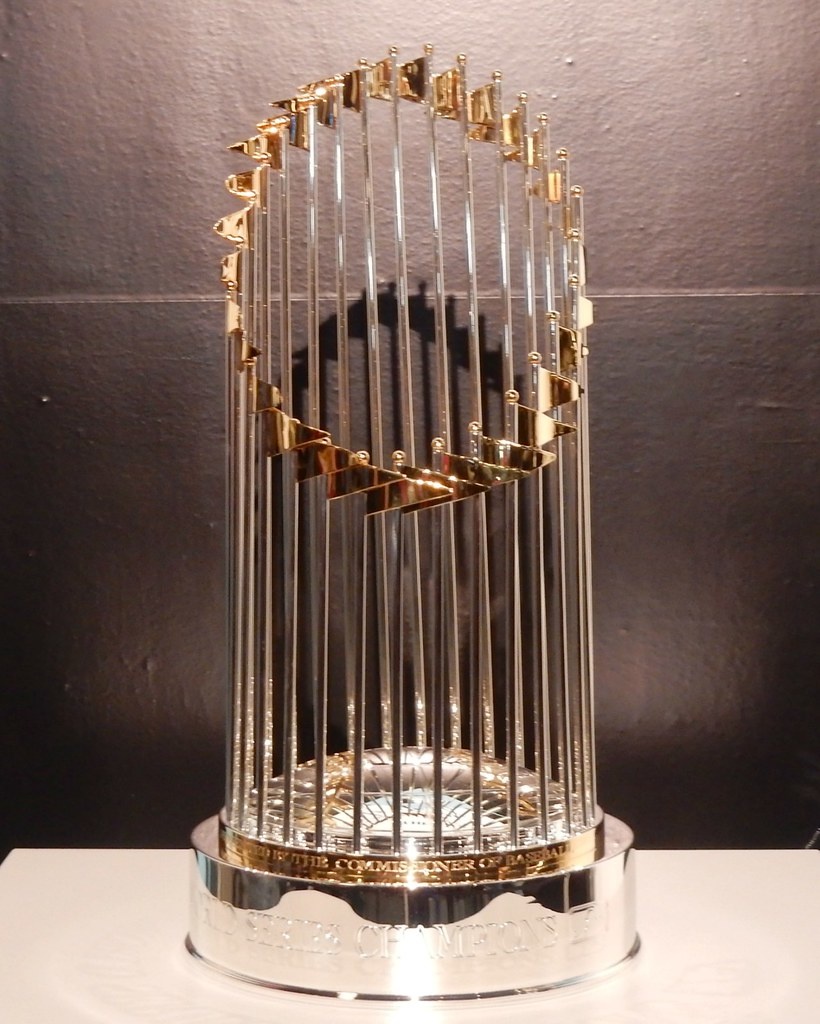 Who are the favorites to hoist the World Series Trophy?
The power rankings of 10 teams ahead of the postseason!

October is here and we are about to witness yet another dramatic MLB postseason, with
its typical suspenseful moments that keep us on the edge of our La-Z-Boys. As
unpredictable as the playoffs are, you know we still have to give it the old college try!

Here is a team-by-team outlook. Since late-season performance has been a fairly good
indicator of postseason success in recent years, we included (in parenthesis)
September* team ranks among league participants in: OPS, ERA, Fielding Efficiency.

*Ranks are as of September 26th

AMERICAN LEAGUE

5 - Minnesota Twins: (5th , 5th , 5th )

Sure, they're the first team ever to hit 300 homeruns in a season, but even in a season
that will always be remembered as the year of the juiced ball, pitching, defense and
situational hitting always become the main separators in high end October match-ups.
Recent stats suggest the Twins are far behind their competition in all three phases of
the game.

4 - Oakland A's: (2nd , 4th , 2nd )

Marcus Semien and Matt Chapman now form the uncontested best left side of the
infield in the game. The bullpen has been bolstered by the returns of Sean Manaea and
A.J. Puk. But a Wild Card game likely to feature Mike Fiers as the starter will most likely
spell the end of another impressive campaign for the Moneyball instigators.

3 - New York Yankees: (3rd , 1st , 4th )

At first glance, it is a challenge to find a weakness in the Bronx Bombers' game. They
have performed admirably all season despite an unprecedented slew of injuries to key
players. But despite the return of ace Luis Severino and their recent success, the Yankee
rotation still isn't as strong as their main rivals'.

2 - Tampa Bay Rays: (4th , 3rd , 3rd )

They have usurped the A's as the analytics champs. The pioneers of the "opener"
strategy have confounded all skeptics for two straight seasons, yet their rotation is an
undeniable strength. Facing reigning Cy Young winner Blake Snell, Tyler Glasnow and
Charlie Morton in a series will be no walk in the park for opponents. The lineup is full of
gamers, all as solid with the bat as with the glove.

1 - Houston Astros: (1st , 2nd , 1st )
Simply the best team in baseball. I even had them pegged for 114 wins in my pre-
season forecast. They'll fall short of that mark only due to some key extended injuries
along the way. And in came Yordan Alvarez. As if this lineup needed another young
stud slugger with light tower power. Oh yeah, they also have MVP candidate and
Easton pitchman Alex Bregman. Oh yeah, and can somebody tell me how anybody is
going to beat the three-headed monster that is Justin Verlander/Gerrit Cole/Zack
Greinke for 3 of 6 games? MY PICK AS WORLD SERIES CHAMPIONS!

NATIONAL LEAGUE

5 - Milwaukee Brewers: (4th , 1st , 3rd )

Here is a classic candidate of a team coming into October as hot as possible (they ended
the season on a 13–5 run without reigning MVP and Louisville Slugger star Christian
Yelich), but that will be hard-pressed to keep that momentum alive through the
playoffs. The hole Yelich's injury creates in a lineup already much thinner than the
competition's is simply too much to overcome. Not to mention a pedestrian rotation
and mid-relief core that are responsible for their having to fight so hard to get in.

4 - Atlanta Braves: (3rd , 4th , 5th )

Another pennant captured for this young, dynamic group of athletes. September has
exposed a few warts, namely a shaky bullpen and bottom of the rotation. Ronald Acuna
Jr should be back from the injury that had him miss the final week of the regular season,
but will he be at 100%? Without that spark plug at full speed, it will be just another step
in the learning curve for an upstart Braves squad that looks like the early 90's version of
the franchise.

3 - St-Louis Cardinals: (5th , 2nd , 2nd )

Standing in the batter's box and staring at the Rawlings logo on the back of Jack
Flaherty's glove hasn't been a comfortable feeling for NL batters this season. The Cards'
ace has been a revelation and the main reason they're a playoff team. Yes, pitching and
defense wins games in the fall and the Cards have that. I just can't figure out how they
can score enough runs to compete with the Nats and Dodgers.

2 - Washington Nationals: (1st , 5th , 4th )

It is very ironic that after the acquisitions of Daniel Hudson and Hunter Strickland to
shore up a shaky bullpen, it was the bats that carried the Nationals to the top Wild Card
spot. Anthony Rendon should win the NL MVP and their rotation is just as good as the
Dodgers'. They could very well surprise everyone!

1 - Los Angeles Dodgers: (2nd , 3rd , 1st )
They have easily the deepest roster in Senior Circuit. Cody Bellinger hit .263 in the
second half and they still managed to avoid any kind of slump. Good fundamentals are
preached in La-La Land, which means the Dodgers can beat you any way the game is
played. But Bellinger is the least of manager Dave Roberts' concerns. Kenley Janssen
has looked very hittable all season. Nevertheless, the Hollywood crew deserves to be
considered a favorite to get to its third straight World Series.