Posted on
By Carl Lemelin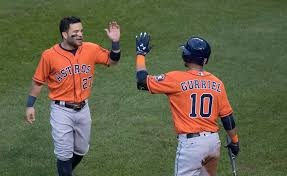 Photo by KeithAllisonPhoto.com
A look at the MLB landscape and each team's odds of making noise in the second half... And especially in October.
We have reached the halfway point of the 2021 MLB season and now have enough of a sample size to pass judgement on each team's chance to go all the way come October. These power rankings are based on the squad's probability to either win the World Series, make it to the playoffs or improve their odds of doing so within the next few years.
Divisional competition can be a major factor affecting these odds, so be advised that this ranking is not a pure statement of roster strength like most others out there.
I like to base my opinions on raw data (team stats this season) and odds of improvement or regression when considering injuries, underperformances or over performances, which all impact sustainability.
I used 5 major team stats to establish my rankings (next to team name in order, MLB ranks in parentheses): run differential, team OPS, team ERA, team relievers WHIP and team defensive efficiency*. These cover all aspects of the game. Since I believe the latter three are the most relevant to success come playoff time, I do tend to weigh them favorably in my final analysis, especially when considering two closely matched franchises.
*Stats as of July 7th
THE ELITE…
1- HOUSTON ASTROS +141 (1) - .792 (1) – 3.61 (8) – 1.31 (14) - .724 (1)
Purists won't like it, but garbage can banging isn't the only reason the 'Stros are this good. Jose Altuve has found renewed swagger, Yordan Alvarez is obviously over his sophomore jinx of 2020, Zach Greinke keeps finding creative ways to get outs, Lance McCullers Jr has developed into a true ace, and most of all the Astros catch the ball better than anyone. Oh, and Alex Bregman hasn't gotten really hot yet.
2- TAMPA BAY RAYS +78 (6) - .713 (15) – 3.55 (7) – 1.17 (3) - .710 (7)
The defending AL champs do it their own unique way, but they've proven it works, year after year, and without having any superstars to lead the way. The bullpen is stacked as always, giving hitters a completely different look almost every at bat. Manager Kevin Cash is a mastermind and despite the fact they are an analytics driven franchise, they remain fluid, innovative and unpredictable in the way they approach each game.
3- LOS ANGELES DODGERS +116 (2) - .745 (10) – 3.17 (1) – 1.28 (11) - .714 (3)
What has happened to former MVP Cody Bellinger? His play is the sole reason the consensus pre-season favorites are not ranked number one here. The Dodgers are still the NL juggernaut, but Mookie Betts and the pen will also have to see a bump in production if the defending World Series champs are to repeat. Developments in the Trevor Bauer legal case will also be a key factor going forward.
4- SAN FRANCISCO GIANTS +106 (3) - .759 (4) – 3.28 (2) – 1.11 (1) - .724 (2)
Much like the Rays, you can't get a good handle on how good this Bay squad really is just by scanning the roster. The well rounded Giants are the only team to rank in the top 10 in all 5 stats considered here… and they are top 5 in every one!!! And that's despite their best hitter from last season, Mike Yastrzemski, being in a season long slump. Two straight seasons of being a pleasant surprise can no longer be considered a surprise, right?
5- SAN DIEGO PADRES +77 (7) - .731 (12) – 3.40 (5) – 1.18 (5) - .702 (10)
Ranked a solid no. 2 to start the season, the Padres were widely seen as the only squad talented enough to give the rival Dodgers a run for their money (literally!). But disappointing first halves from starters Blake Snell and Chris Paddack have held the Friars back a little. The lineup seems to be rounding into shape after a slow start and should be a major strength for the upcoming stretch run.
6- CHICAGO WHITE SOX +99 (4) - .748 (8) – 3.62 (9) – 1.13 (15) - .689 (19)
Everyone's preseason sleeper pick to win it all, the ChiSox have been an inconsistent bunch, plagued by a couple of extended slumps, mainly caused by the combination of a surprisingly inept bullpen and plain bad defense. The rotation is elite and the lineup is loaded. Plus they should get superstar Eloy Jimenez back for the September stretch run.
7- OAKLAND A'S +25 (10T) - .718 (14) – 3.89 (11) – 1.28 (9) - .699 (13)
As usual, no glaring strength or weakness to speak of on this Moneyball squad. That defense is better than its current 13 rank and perennial MVP candidate Matt Chapman is way better than his current .725 OPS clip. They do miss departed Marcus Semien's solid offensive and defensive contribution, but an underrated pitching staff led by Frankie Montas and Chris Bassitt should make them a threat to shock everyone.
8- MILWAUKEE BREWERS +49 (9) - .692 (22) – 3.50 (6) – 1.32 (16) - .714 (4)
To echo the Dodgers question, whatever happened to Christian Yelich? The fact that the Brew Crew is leading the Central without their MVP making his usually superhuman contribution can only be seen as a great harbinger of things to come. The pitching is second to none with rotation studs like Brandon Woodruff and Corbin Burnes, and bullpen behemoths Josh Hader and Devin Williams.
THE CONTENDERS…
9- TORONTO BLUE JAYS +79 (5) - .784 (2) – 3.97 (12) – 1.28 (12) - .696 (16)
The middle of the lineup gives opposing pitchers fits. Vlad Guerrero Jr has arrived and is carrying the temporarily relocated franchise to new heights. The arrival and pleasantly surprising performance of rookie starter Alek Manoah has bolstered a thin rotation. Injuries in the pen have kept the Jays from challenging for the division lead, but make no mistake, they have all the elite level talent needed to go all the way if they make it to fall dance.
10- NEW YORK YANKEES +1 (15) - .722 (13) – 3.82 (10) – 1.16 (2) - .700 (12)
Beware the sleeping giant! Three elements currently absent from the Bronx Bombers' game should soon make them the dangerous team everyone expected: typical D.J. LeMahieu and Luke Voit production, along with the mid-summer heat that makes balls fly out of Yankee Stadium. However, Gerrit Cole will need to get over his post "sticky substance scandal" slump for the Yanks to make any noise into September and October.
11- NEW YORK METS +3 (14) - .676 (27) – 3.35 (3) – 1.31 (13) - .705 (9)
The Mets are living proof that the old adage "The name of the game is pitching" can hold true in as tightly contested a division as the NL East this season. They have one of the very worst attacks in the game, but still hold a comfortable lead atop a division that has no weak link. Jeff McNeil, Michael Conforto and even Pete Alonso will need to find their typical strokes however if this all arms, no bat bunch are to make any October splash.
12- BOSTON RED SOX +61 (8) - .757 (5) – 4.00 (13) – 1.37 (19) - .655 (30)
You may ask yourself how I can rank a division leader below 3 other teams in the same division. You need only gaze at the rankings for team ERA, bullpen WHIP and defensive efficiency for the answer. I had the BoSox in the bottom third of these pre-season rankings for that very reason. Thin pitching and awful defense is a terrible way to play winning baseball and this run of luck will run out in the second half, despite all the runs they can score!
13- CINCINNATI REDS +5 (13) - .751 (8) – 4.48 (20) – 1.43 (26) - .689 (20)
Another team fighting for the division lead, but has unsustainability written all over it. Bottom third ranks in all three metrics critical for late season and playoff success. Sonny Gray wasn't the ace the Reds were counting on, even before his injury, Luis Castillo is unrecognizable and the pen is shaky at best. MVP candidate Nick Castellanos is leading a potent lineup, which is why the Reds can still hope it may be enough to catch the Brewers.
14- CLEVELAND INDIANS -28 (20) - .686 (24) – 4.48 (21) – 1.28 (10) - .696 (14)
The Tribe probably don't have enough lineup meat around Jose Ramirez and Franmil Reyes to either catch the White Sox or win the Wild Card race, but there is room for improvement in the rotation, as Shane Bieber and Zach Plesac (just back from IR stints) haven't been quite themselves yet. The bullpen is solid.
15- SAINT-LOUIS CARDINALS -41 (21) - .677 (25) – 4.22 (16) – 1.42 (25) - .711 (5)
This one is a complete mystery. The Cards have always been the model NL franchise, able to find hidden gems and make them blossom through a steady system. Now, they finally have a jacked up lineup filled with stars like Paul Goldschmidt, Nolan Arenado and Dylan Carlson among others, but hold the 25th ranked OPS. It's not too late for the storied franchise to make a run, but the injuries to ace Jack Flaherty and number two Miles Mikolas may thwart that effort.
PRIMED FOR A MAGICAL RUN? ...
16- WASHINGTON NATIONALS -4 (16) - .733 (11) – 4.04 (14) – 1.25 (8) - .711 (6)
Don't sleep on the 2019 champs! Juan Soto hasn't yet hit his stride, but is showing signs of making yet another run at the MVP title, Stephen Strasburg's return from injury is imminent, the Nats always pitch and defend as well as any NL East opponent, and this division is there for the taking for any team who wants it badly enough.
17- LOS ANGELES ANGELS -26 (19) - .762 (3) – 4.97 (26) – 1.42 (24) - .678 (27)
Yes, Mike Trout should return in August, but there's no way the Halos can ever pitch or defend well enough to ever hope catching up to the Astros or A's.
18- ATLANTA BRAVES +16 (12) - .747 (9) – 4.26 (17) – 1.44 (27) - .695 (17)
They were slated for 10th on this list before MVP front runner Ronald Acuna Jr blew out his knee. Add to that an injured and legally troubled Marcell Ozuna, and that means less pitches to hit for last season's NL MVP Freddy Freeman. The bullpen is underperforming terribly right now, so a significant uptick should be expected in the second half, but with their ace Mike Soroka out for the season as well, a miracle is all the Bravos can cling to.
19- CHICAGO CUBS -15 (17) - .701 (18) – 4.05 (15) – 1.22 (6) - .709 (8)
After a hot start, the bubble has burst on the North Siders. The pen, anchored by a rejuvenated Craig Kimbrel, has been surprisingly efficient, but there just isn't enough in the rotation to keep the dream alive into the late summer.
20- PHILADELPHIA PHILLIES -21 (18) - .710 (16) – 4.39 (18) – 1.40 (23) - .681 (25)
Same old, same old for this truly troubled franchise. Year after year, the record never matches the sum of the parts. Fixing the perpetually pathetic bullpen should be the priority.
21- SEATTLE MARINERS -54 (22) - .672 (29) – 4.50 (22) – 1.23 (7) - .695 (18)
Reliable bullpen, but a quick glance at the rest of their ranks tells you they don't have a prayer of sustaining that winning record.
MAYBE NEXT YEAR…
22- MIAMI MARLINS +25 (10T) - .675 (28) – 3.39 (4) – 1.17 (4) - .700 (11)
With that good a run differential, you'd think they have a shot at it, but with one of the power three in the West almost assured of claiming the Wild Card spot, the young up-and-comers may have to wait another year. The pitching is young and really good, but they need a few more bats to surround underrated superstar Starling Marte.
23- DETROIT TIGERS -67 (25) - .695 (20) – 4.65 (23) – 1.49 (28) - .689 (22)
The Big Cats have been a much tougher pray than expected for their opponents this season. The pitching seems to be coming around. Now it's time to find more athletes to fill the lineup and flash some web around the diamond.
… OR IN THE NEXT 5 YEARS…
24- COLORADO ROCKIES -57 (24) - .706 (17) – 4.72 (24) – 1.54 (30) - .689 (21)
Will spin rate analytics ever help them figure out the type of pitcher they need for sustained success on the mound in the Mile High City?
25- MINNESOTA TWINS -69 (26) - .748 (7) – 5.01 (27) – 1.38 (21) - .681 (24)
The lineup is still one of the most explosive in the Majors, but they have completely lost their way on the mound and in the field. 2021's biggest disappointment by far!
26- TEXAS RANGERS -53 (23) - .690 (23) – 4.48 (19) – 1.36 (18) – .686 (23)
Consistently mediocre across the board. Where do you start?
27- KANSAS CITY ROYALS -87 (27) - .693 (21) – 5.04 (28) – 1.40 (22) - .672 (29)
For a small market franchise that must rely on drafting and developing, they've missed on too many young pitching prospects lately. One of only 2 teams to rank in the bottom 10 in each key statistical category.
28- ARIZONA DIAMONDBACKS -123 (30) - .677 (26) – 5.22 (29) – 1.51 (29) - .679 (26)
The only other team to rank in the bottom 10 in each key stat, the D-Backs are even further away from respectability than the Royals.
29- BALTIMORE ORIOLES -120 (29) - .699 (19) – 5.53 (30) – 1.38 (20) - .676 (28)
After a 2020 season where there were signs of progress, 2021 has proven that it's back to the drawing board. Future catching stud Adley Rutschman is already the face of the franchise and he has yet to play a game in The Show.
30- PITTSBURGH PIRATES -116 (28) - .659 (30) – 4.78 (25) – 1.33 (17) - .696 (15)
Bring on the youth movement… Fast!!!